Dr. Jeanine Parolini has effectively (not perfectly) maneuvered many transitions and goals in her own personal and professional life as well as been trained as a coach. She then has successfully coached people toward their goals and transitions since 1995 in personal, professional, and leadership areas.
Some personal and professional coaching topics have included personal and professional growth and relationships, career/educational goals and advancement, personality and professional assessment, inclusion and equity, life balance and stress management, family and marriage, dating relationships, processing grief, conflict and differences, etc.
Leadership coaching topics have included self-leadership, emotional intelligence, building relational skills, career and leadership skills for promotion, change leadership, leadership assessment and choosing the best approach, team leadership, transformational servant leadership, leading within the culture and climate of an organization, Jeanine's version of 360 feedback, resolving conflict, cultural inclusion and equity, etc.
Dr. Jeanine Parolini has experience with a number of leadership assessments including training and certification as a Strengths Coach I with Gallup.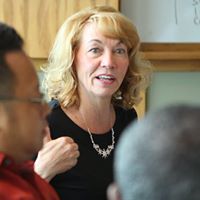 Please contact Jeanine for a one-hour no cost teleconference to discuss your coaching needs.
Contact:
Dr. Jeanine Parolini
JParolini@gmail.com
651.295.6044 (cell)